To add an event that will be attended by a member or members of the Ginetta Owners Club to the events calendar please email the events co-ordinator at events@ginetta.org
November
9 - 10 - 11 Lancaster Insurance Classic Motor Show, NEC, Birmingham, Ginetta 60th anniversary display*
Why not treat yourself and have something to look forward to by booking tickets to this year's show?
The GOC are in Hall 2. Please see the Newsmag or Forum for the members discount code. 
 Book online: www.necclassicmotorshow.com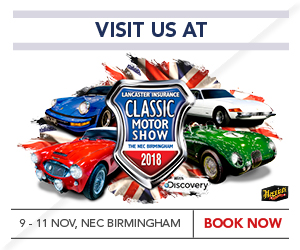 Events marked * GOC are participating Club. Discounted tickets may be available.
Other Ginetta related events can be found at:
www.hillclimbandsprint.co.uk
www.scottish-sprinting.co.uk
www.ginetta.com
www.britishgt.com

Dates may change, always check before travelling